March 11, 2017 | Posted in: Residential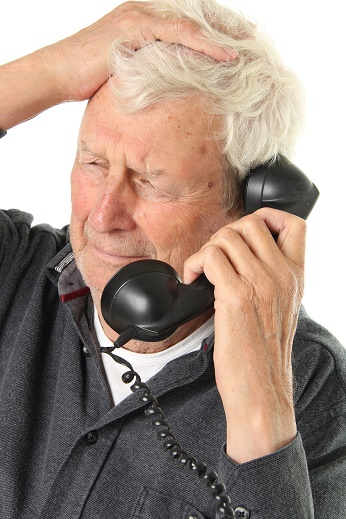 I have worked in telecoms for many years, including time spent with BT and Virgin Media fixing residential telephone faults. I have seen how vitally important it is for the elderly and those with limited mobility and/or sight and hearing impairments to be able to keep in touch with family and friends via the telephone.
Millrose Telecom often receives requests from the elderly to assist with telephone faults. Worried relatives also get in contact asking for help ensuring their loved one's home has a suitable communication system in place.
There are a few things that I have learnt over the years. If you are of limited mobility, visually or hearing impaired, or have an elderly relative who depends very much on the telephone then here are some pointers for you.
1. Pre-call: I have found that often elderly or vulnerable people appreciate a phone call to let them know that you are on the way. Or, if you are running late, that they know when to expect you. After all it's only good manners really. If you are booking a telephone engineer and have a mobile or the telephone fault still allows calls, ask for a pre-call for yourself (or your relative).
2. ID: Always ask your telephone engineer for ID at the door and look to see that they have the company name branded on their vehicle. If genuine, they will be happy for you to call their office while they wait if you are unsure.
3. Lifeline: Many elderly and vulnerable people have a Lifeline pendant necklace or wristband connected to a telephone system for use in the event of emergencies such as falls. The Lifeline unit should ideally be wall mounted and out of the way from knocks or potential accidental damage. Or, if wall mounting is not possible, then it should be situated on a suitably sturdy table.  If this applies to you and there is a fault with your telephone line and you contact your service provider or an independent telephone engineer, be sure to tell them that you have a Lifeline system so that they can priortise the call-out.
4. Extra extensions: Consideration should be given to installing extra telephone extensions around the house so that the elderly or less mobile person does not feel the need to rush for the phone which could result in slips or falls. Any elderly, I have found, still have their telephone traditionally situated in the hallway and with older style houses, often the master socket is located in the hallway. Extra extensions can be installed in rooms such as bedrooms and the living room which is a much safer option that installing a telephone in the hallway with a long cable which could easily be a trip hazard. Cordless phones are an option, but my father-in-law, who had started to show signs of dementia, could never remember where he had put his cordless handset and invariable it was found stuffed down the back of the sofa with the TV remote control.
5. Cabling: Speaking of cables, a good telephone engineer can safely and neatly ensure that all cabling is tucked away to prevent any potential trip hazards. There should be no loops or gaps in the cable as it is attached to the wall or skirting that might result in entanglement from a trailing cable.
6. What is happening: If you have a relative or may be confused or distressed about a telephone engineer turning up and running cables about the house it is highly recommended that you be in attendance to help explain to your relative what is happening and reassure that it will be sorted out very soon. Likewise, the telephone engineer should explain his intentions to the customer and make them aware of the work to be done with an estimate of timescales. You could always request a "site survey" for the engineer to visit a few days before and explain what needs to be done and if any furniture will need moving to complete the job. It's always a good idea, if you can, to get the furniture moved out of the way in advance of the appointment as very often engineers from the large service providers are instructed not to move customer furniture for health and safety and insurance reasons.
7. Call Blockers: This is a small gadget that is installed to the phone unit between the master socket and the phone that can help reduce unwanted calls. They are pre-programmed with known nuisance numbers, reject calls with no caller ID and if one slips through that you determine is a nuisance call then at the press of a button the call blocker will store that number for future reference. Unwanted sales calls are one thing, but malicious and scamming calls are a far more serious problem for the vulnerable.
8. Telephone Preference Service: I have found that elderly people are often quite alarmed by cold calls and auto diallers from telemarketing companies that result in seemingly "silent calls". Sign up to the Telephone Preference Service (TPS), this will help to reduce the number of cold calls that you receive by ensuring that your phone number does not appear on data lists provided to marketing companies. It is a legal requirement that all organisations (including charities, voluntary organisations and political parties) do not make such calls to numbers registered on the TPS unless they have your consent to do so. It doesn't appear to eradicate cold calls entirely, but will certainly reduce them.
9. Customer Premises Equipment (CPE): Thought should also be given to the handsets in the home. A larger handset with big buttons is recommended for those with visual impairments or arthritic hands. Phones with flashing lights are a good option for those customers who are deaf or hard of hearing. I have also installed external ringers before on outside walls for customers who would like to be able to hear the phone whilse out in the garden.
10. Calling the service provider: I've often been asked to contact service providers in the event of a fault and engineers (well good ones anyway!) are often happy to do this for customers. Service providers, such as BT, will only take responsibility for phone faults externally, only as far as the the Master Socket in your property. Any issues with internal wiring are the responsibility of the householder and will result in a hefty call out charge for them to come out and fix. An independent telephone engineer can explain the faults finding results to the service provider to help indicate to them that the fault is outside the house, if that is indeed the case.
If you need a telephone engineer to address any of these issues at your property, or if you have concerns about an elderly or infirm person's telephone system please feel free to contact us and we will be happy to help.