August 9, 2017 | Posted in: Community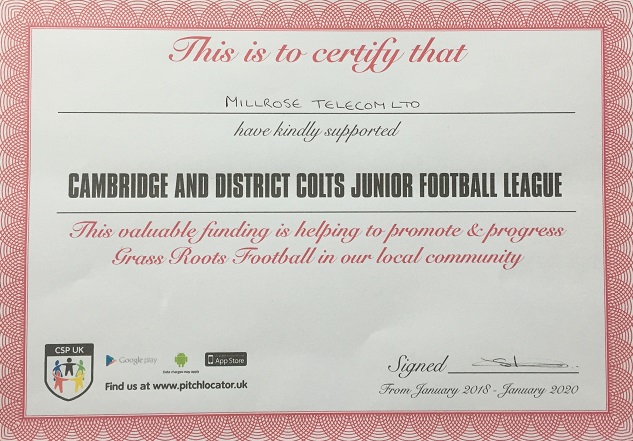 From our work at Norwich City Football Club maintaining the digital advertising boards and Epoch screen at Home matches to volunteering for Littleport and Ely Timebank, football and community are two things that Millrose Telecom spends a lot of hours on.
Bringing our love of football to a more local level, and to celebrate the start of the new football season, Millrose Telecom are now proud sponsors of the Cambridge and District Colts Junior Football League to support grassroots football in the community.
Football has always been a big part of each community across England and Wales. However with the cost of running these clubs always on the rise it becomes harder and harder to fund youth football every season, so local businesses, like Millrose Telecom, offering commercial sponsorship opens the door for new funding.
These initiatives, run by CSP UK, take the shape of different publications  tackling everyday logistical and administrative issues that families, coaches and indeed youth football leagues have faced for many years.
Firstly the Fixture List Planner  – this idea has now been rolled out across over 150 youth leagues in the UK and continuously generates thousands of pounds for youth football across England & Wales every year whilst raising the profile of each individual league in their community.
In addition, the 'Pitch Finder Handbook'  is being used by tens of thousands of families week to week to find out how to get to their next game.
The 'Pitchlocator' website and CSP Pitchfinder smartphone app incorporates fixtures which not only offers a great way for families to get to their next game, but showcases the local sponsors.
These publications, websites and apps are not only aimed at tackling communication problems within youth football leagues, they have become a way of raising the profile of youth football in the community and raised almost £350,000 for grassroots football in England and Wales.