March 10, 2015 | Posted in: Company News
Keith's update blog:
During the dark winter months we've kept ourselves warm with all manner of cabling, phone faults, installations and star jumps.
As the year drew to an end, a project came our way at very high security premises in Buckinghamshire working on Cat7 installations for a new data centre. As Christmas drew closer, accommodation became surprisingly impossible to find and so I slept on a narrow boat in freezing mid December. Telecoms I am good at, fire lighting I am less adept,  smoking myself out and resulting in having to wear every single item of clothing I owned to get through the night.
The New Year brought warmer projects, a business centre in Cambridge installing Cat5e, ready for a new phone system. And also an NEC SL1100 installation at a business centre in Bedford.
Also in the office and commercial sector, as one man and two man crews, we've been installing and terminating Cat5e at various office premises, fault fixing, installing Horizon phone systems for 360Coms across the region, installing NEC SL1100 systems and fitting data points for Cat5e at a recruitment agency in Peterborough.
We've worked on server relocations with our buddies at Computer Relocations in Newmarket, moving servers from London to Coventry out of hours to provide minimum disruption for the client.
For warehousing and distribution clients we have worked on the installation of network cabinets.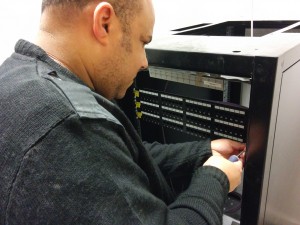 On the retail front we've done a fibre installation at a busy shopping centre in Essex to relocate fibre to a new network cabinet and NEC SL1100 extension installation at an air rifle shop, also in Essex. We've also been out to Center Parcs on a retail data point fault call-out much to the envy of my family who must think my job involves riding the flumes all day or something. I wish.
Interestingly, we have worked in a number of medical practices recently with dental surgeries, doctors and vets all on our completed projects list. We've installed NEC SL1100 systems, cat5e datacabling with data points, we've squeezing through four tight loft spaces at a doctor's surgery and, at a large veterinary practice near Newmarket, moved a data cabinet which also involved going through two lofts to relocate it to a back office. Thankfully I'm not scared of spiders, unlike my second man (which was quite entertaining).
We've installed Cat5e datacabling and containment at a school near Diss and worked on local business phone fault call-outs at all hours.
On the residential front, we've helped customers with jobs such as moving phone sockets, crackling lines, no dial tones, and rectifying DIY mishaps where over enthusiastic husbands had inadvertently caused damage and we've also updated old, failing wiring that caused residential phone issues.
We've had residential call outs to a local air base as well as on-base Cat5 data cabling and containment in an army helicopter repair hangar.
Site surveys have also been a-plenty, for fibre, cat5e and business telecoms installations across Cambridgeshire, London and East Anglia.
We like to be busy. If you require any business or residential telecom assistance, or copper or fibre data cabling –  then please get in touch.