November 29, 2014 | Posted in: Company News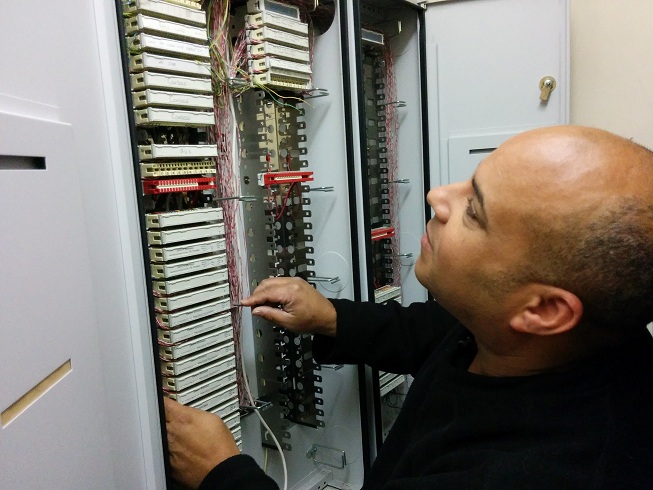 As the weather turns colder there's been no slow down in projects for Millrose Telecom, and in some very cold and draughty  locations too!
In the retail sector, we've been working in Great Yarmouth, Norfolk on a big subcontract project for a well known department store installing and terminating Cat5 cabling for their network. This is due to go live in December.
We've also worked subcontracting for a chain of well known retail stores across numerous sites in East Anglia replacing EPOS units and cash drawers as part of their upgrade programme to go "contactless" with payment systems.
On commercial office premises, Millrose Telecom did a site survey and two-man crew Cat5 relocation (100 metres) and installation of additional data points along with telephone extensions for a large bus company headquarters in Kent.
We've worked on 6u cabinet installations in office premises in Peterborough and Cat 5 data cabling at a publishing company in Cambridgeshire. We also added new NEC 12 key handsets to an SL1100 system for a construction company in Essex.
Millrose Telecom has also worked this Autumn on a subcontract AV installation project at an Academy in London, installing 63 inch touch screen TV screens and also installing the looms for the touch screen white boards.
We've carried out a project at a large hotel in Peterborough, installing data points and 60 metres of Cat5 cabling. We also ran 4-pair telco cable to new offices being refurbished on the site.
In a high security assignment, Millrose Telecom were posted off to a precious metals company  in Herfordshire for Cat5 cabling and network cabinet installation. So tight were the security checks that just leaving to go home for the night pretty much required a strip search!
We've also worked on projects for the warehouse and manufacturing sector. At a distribution centre in Wisbech, we fitted, as a two man crew, network cabinets and Uninterruptible Power Supplies (UPS). And, at a major supermarket fleet service station in Peterborough, we endured a taxing job using a cherry picker in a very tight and precarious space with just an inch either side of room. With a deep lorry servicing pit on one side and a guarded man pit on the other, we negotiated the cherry picker carefully to carry out high level cabling, successfully fitting access points underneath the tray work.
On the fibre optic front, fuelled by strong coffee, we worked all night at a commercial premises in Finchley, London splicing fibre cables. This had to be done overnight to minimise network disruption to the office workers.
We also worked on a large agricultural farm in Cambridgeshire, in the howling wind and rain, running fibre cables 1500 metres and braving the elements and huge spiders to use a scissor lift for high traywork in the roof of the factory.
In addition, Millrose Telecom has provided commercial property site surveys in Cambourne and March, and a local authority site survey  in Ely advising customers on their data cabling and business telephone needs.
On the residential front, Millrose Telecom has been busy providing telephone engineer services across Cambridgeshire with numerous faceplate changes, crackly extension problems around Cambridge and Huntingdon. We've also relocated and tidied telephone cabling and removed unwanted junction boxes from a listed building in Ely.
If you require any business or residential telecom assistance, or copper or fibre data cabling –  then please get in touch.