March 1, 2015 | Posted in Data Cabling, Fibre Optic, Superfast Broadband | By Keith Evans
Comments Off on Vouchers for superfast broadband now available for businesses in East Cambs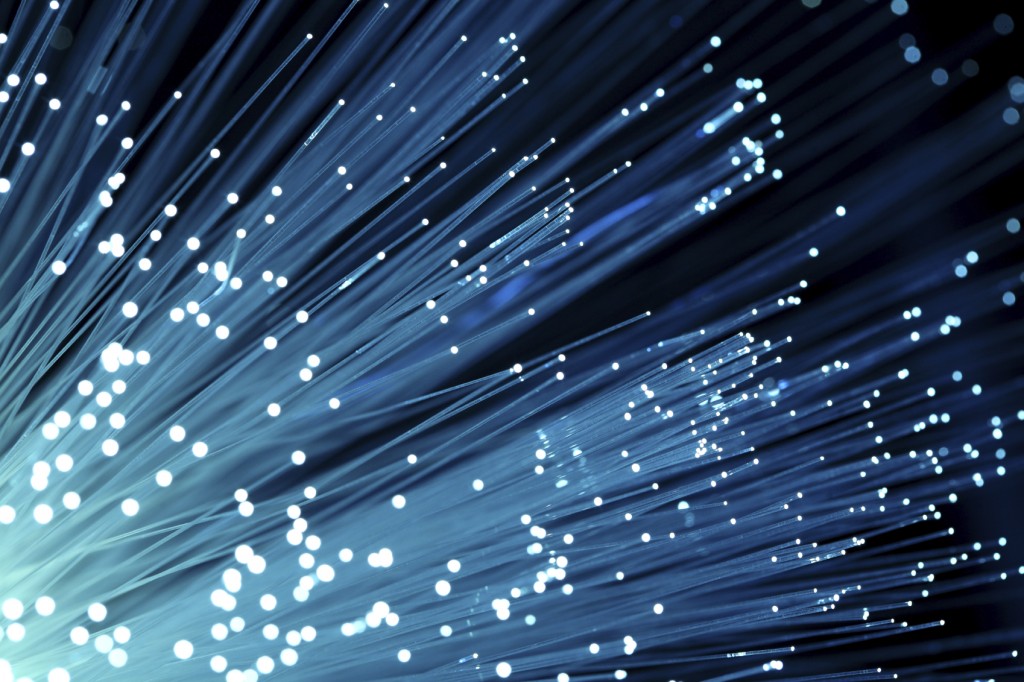 We were pleased to read in this week's Ely News that businesses in East Cambridgeshire are eligible for vouchers for superfast broadband connectivity. This is great news for businesses in the East Cambs area, where broadband speeds are, let's face it, leaving a lot to be desired. 
The vouchers are eligible for broadband installations from a service provider to the cabinet (Fibre-To-The-Cabinet, FTTC) or from the cabinet to the premises (also known as Fibre-To-The-Premises, FTTP). Many local businesses use copper network cabling inside their buildings, generally Cat5 cabling, which can result in a slight drop in broadband speed between floors, particularly for businesses who need to communicate large files between users and customers. To maintain the optimum speed around your building  you could consider internal fibre networking, and that's where Millrose Telecom can help. We install and maintain internal fibre networking to businesses and schools across the region to improve their communication speeds.
From the Ely News:
A Government scheme to help small and medium-sized businesses install superfast broadband has now been extended to companies in East Cambridgeshire.
Connection vouchers provide funding of between £100 and £3,000 to install superfast broadband to business buildings.
The scheme is run by the Connecting Cambridgeshire partnership of local councils and funded by the Department of Culture, Media and Sport.
The vouchers pay for the one-off cost of installing superfast broadband to offices and business buildings, which can be expensive and prevent companies from getting better connectivity.
The district of East Cambridgeshire has over 4,000 businesses that could benefit from the funding. Charities and social enterprises are also eligible.
Cllr Mathew Shuter, business champion at the county council, said: "Superfast broadband is vital for all businesses and our local economy.
"I am delighted that we can now offer the scheme to businesses in the district of East Cambridgeshire to ensure that they can grow and compete in an increasingly digital world."
Groups of businesses can also apply together for connection vouchers and pool the funding, which enables a whole office block or business park to be upgraded.
Visit www.destinationdigital.info/vouchers
Read more: http://www.ely-news.co.uk/Firms-East-Cambridgeshire-vouchers-superfast/story-26090456-detail/story.html#ixzz3TA576YYF
If you would like to discuss your internal fibre connectivity options, to replace your existing internal copper data cabling with fibre to increase your broadband speeds from floor to floor, then contact us for a site survey.
January 15, 2015 | Posted in Superfast Broadband | By Keith Evans
Comments Off on Free drop-in surgeries for businesses in Cambridgeshire on government funding for superfast broadband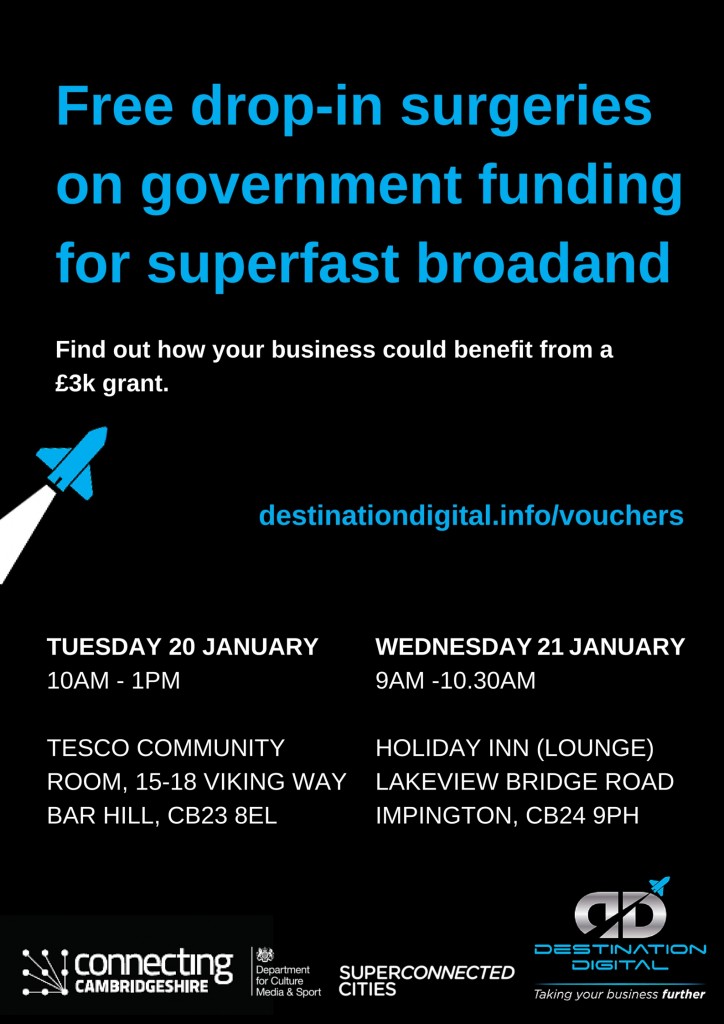 There's further information about connection vouchers on our website: http://destinationdigital.info/vouchers/
April 13, 2014 | Posted in Residential, Superfast Broadband | By Keith Evans
Comments Off on Fibre broadband is coming to Cambridgeshire!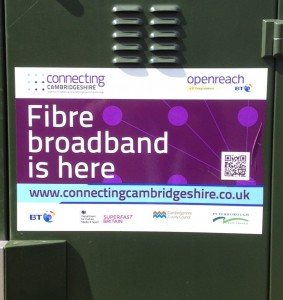 It's almost here! You may have noticed the fibre cabinets appearing in a street near you, finally dragging Cambridgeshire into the 21st Century.
Cambridgeshire will receive a Fibre-To-The-Cabinet service, with copper cabling to your home or business. This will mean speeds of around 80Mb (depending on which package you choose). New build areas in the future may be lucky enough to have fibre all the way to the house, which will give speeds of an eye-popping 300Mb!
There's a few things you should be aware of though, with the impending arrival of superfast broadband, and how installation may not be as straight forward as you think.
Depending on the package that you opt for with your service provider, you can either install a new modem yourself or an engineer will visit you if you want faster speeds.
Here's the bad news though – your new fibre optic hub will need to be plugged in directly to your Master Socket. This is the main phone point into your property. This means that you can no longer run your router off extension wiring any more – it must be plugged into the Master Socket. That could cause an issue as you also need two nearby power sockets for the router and often master sockets are inconveniently placed near the front door – which is not ideal if you want to gain optimum speed by plugging your PC or games console directly into the router.
Only BT can move the Master Socket, as it belongs to them, and I suspect they won't do that for free. However, to get round this, the engineer can run, as part of the "connection fee", a length of cable that BT call a "data extension kit". BT will provide up to 30m of this extension cabling in place of your old extension wiring, allowing you to have your hub elsewhere and not by the front door.
If you are installing yourself, you should fit filters to the Master Socket to reduce interference. If an engineer is visiting, they will fit a special faceplate to the Master Socket to help you get the fastest speed.
Installation will normally take an engineer around three hours and you will need to be there while the engineer's there (to provide access and cups of tea). In return, they will also help set up your PC.
Here's some things you can you before installation:
1. Your new hub should arrive 2 days before the engineer calls round – consider where you would like this to go and the location of your Master Socket. Are there two power points nearby?
2. Do you want the new hub to be located away from the Master Socket on your existing extension wiring, in which case you will need a Data Extension Kit from the engineer. Consider the route this cabling should take and ensure that you move any furniture, as the engineer will not do this for you (health and safety and all that!). They won't run any cabling under carpets either, but will instead tack it neatly across the top of skirting boards.
If you have any issues after installation with your wiring or fibre optic connections, then be aware that BT are only responsible for  the service from the exchange up to and including the Master Socket. If you have a fault, then you'll have to pay £129.99 for a visit from BT if the engineer finds that the problem is with:
Your main socket, due to damage you've caused
Your home wiring beyond the main socket (for example, your phone extensions). This includes damage you've caused
The way you've connected up your equipment
Interference from something else in your home, like your phone, alarm system, or TV.
The fault is with the BT Home Hub and it's not in warranty (Hub remains in warranty if you are in a long-term contract)
In which case, give me a bell as I'm much more cost effective and highly experienced with both BT and Virgin Media systems!
For more information about superfast broadband and when you can expect to go live, check out the Connecting Cambridgeshire website
Now, if only we could do something about the pitiful mobile 3G signal round here too, then I would be a very happy bunny indeed.