November 3, 2017 | Posted in Company News, Data Cabling | By Keith Evans
Comments Off on Autumn 2017 update: Universities and burgers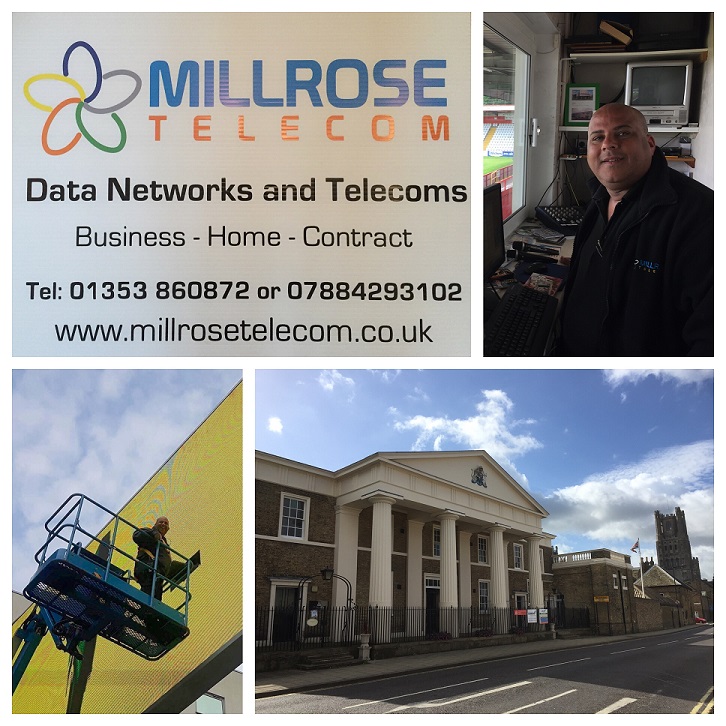 It's been a while since I've had the time to write a blog. I intended to write one each quarter but only had the opportunity to catch up with a rare day off today. I've also written my Christmas Cards, so that's pretty good going for a day off.
This year Millrose Telecom has been working on a subcontract basis to many of the universities and colleges around Cambridge. This has included a long term project on a new build science block, research institute additional cabling works and working on cat5 and fibre projects in many historical and beautiful university buildings across the city.
In addition, Millrose Telecom has provided cat5 refurbs of office buildings in commercial premises and business parks around Cambridge and also commercial refurb projects across Essex. Doctors' surgeries and medical centres across Cambridgeshire have also been on the list with the installation of dado trunking, new cabinets and cat5 points.
Schools projects have included fibre work in Stamford and installations of NEC business telephone systems at Manea School in Cambridgeshire.  I'm also often used by large IT companies in London as a local engineer for fault fix callouts including for chains of restaurants in Cambridge, perhaps the most interesting posting being to be at the opening of a gourmet burget joint to ensure the day runs smoothly (from a technical point of view, rather than offering my consumption services).
I've also worked on the refurbishment project for Sessions House in Ely, the former magistrates' court, installing Cat5 and voice cable between the old court rooms, converting them to meeting rooms and server relocations between London, the midlands and Scotland
All this in conjunction with my usual work down at Norwich City Football Club maintaining the Epoch screen at Home matches. This has also led to Stevenage FC contacting me to assess their digital boards.
As ever, if you ever need structured cabling services, copper or fibre, either on a direct or sub-contract basis, then please contact me.
March 7, 2017 | Posted in Community, Company News | By Keith Evans
Comments Off on Millrose Telecom proud to sponsor Sportsman's Dinner 2017
Millrose Telecom is proud to sponsor this year's Sportsman's Dinner 2017 raising funds for East Anglia Children's Hospices (EACH). Last year's event was a resounding success and raised over £7000 for charity. Guest speakers this year include footballers Terry Butcher and John Hartson.
The event is quickly selling out, so move quickly if you want to attend. It should be an amazing and entertaining evening!
January 8, 2017 | Posted in Company News, Data Cabling | By Keith Evans
Comments Off on Winter Update: Priests, cats and plenty o'mud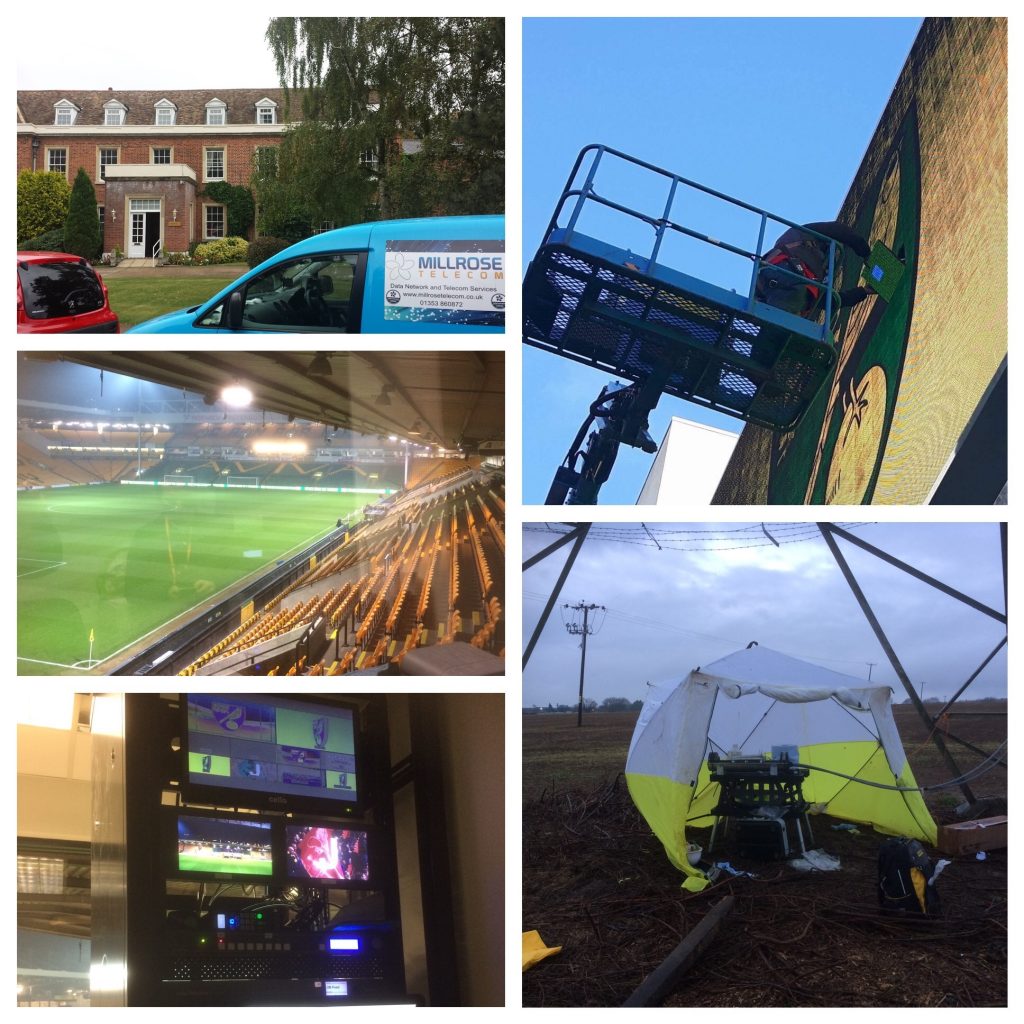 It's been a while since we've posted an update, it's been pretty busy since the summer!
Millrose Telecom projects in Autumn and Winter have included a variety of fibre and copper data cabling, business telecoms and residential telephone call-outs.
Paxton Hall carehome near St Neots called us for telecoms work for their new office, installing new telephone extensions across the building.
Cathedral Vet Centre in Ely required Cat 5 data cabling for the cat ward (Cat Sicks might have been more appropriate)
Further afield, we've been working on Cat 6 installations in offices in Watford, fibre work in a freezing field outside Northampton, MOD Cat5 installations and PC and EPOS swap outs across East Anglia for a well-known retail chain. We also worked on installing access points and cabling at a home for retired priests – where I discovered their network was appropriately named Dougal.  We've also worked on server move projects to Swansea, Bath, Birmingham and Eastbourne.
We continue to maintain the boards and Epoch screen for Norwich City FC at Carrow Road, attending all home matches. An IPAF licence comes in handy here for changing tiles on the huge screen, especially important for televised matches. If you've seen it revolve, it's me (Keith) whose job it is to make it do that.
Residential jobs featured heavily throughout December, with call outs across Ely for home data cabling requests and to fix telephone faults. It's often much faster to call a local (highly experienced) telephone guy – and far more cost effective, than waiting for a service provider especially when you want everything working in time for Christmas.
Millrose Telecom would like to wish all customers, suppliers and random blog visitors a very happy and healthy New Year. All the best for 2017!
September 26, 2016 | Posted in Company News | By Keith Evans
Comments Off on Millrose Telecom supports Ely Hereward Rotary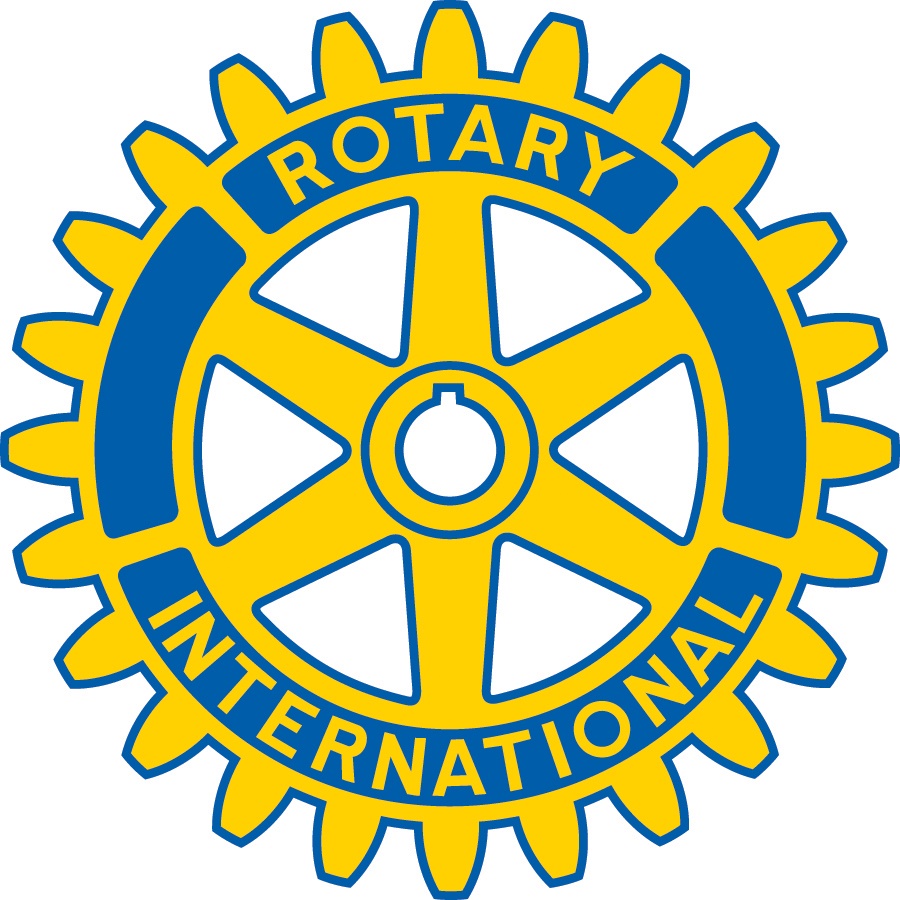 Millrose Telecom is delighted to support the Rotary Club of Ely (Hereward). Ely Rotary  (Hereward) was formed in 2004 by a small group of people who were looking at ways of putting something back into their local community, and at the same time having fun and enjoying the company of like-minded people. Ely Rotary is part of the wider Rotary movement.
The club is now in its thirteenth year and has raised over £60,000 for local, national, international charities and good causes. The Club raised and distributed over £7,000 last year to local and international charities and good causes particularly at the two biggest and most popular Rotary organised local events –  Santa's Christmas Sleigh round the streets of Ely, and Summer Aquafest by the river.
August 28, 2016 | Posted in Company News, Fibre Optic | By Keith Evans
Comments Off on Summer update: Work, with a high fibre content
Once again, a variety of work contracts have been keeping us busy at Millrose Telecom over the summer, particularly with our fibre structured cabling service: an installation at a large shopping centre in Essex, fibre re-wires at schools in Norfolk and a fibre tidy and relocation at an agricultural facility in Cambridgeshire…to name but a few.
In addition, we have been travelling the length and breadth of the country, helping out with server moves from office relocations in Peterborough, Gateshead, London, Colchester, Welwyn Garden City and Swansea.
June saw an invitation from HellermannTyton to attend a training course at their HQ to update engineers on RapidNet, Cat 8 (Class I and Class II) and ethernet for optical fibre. The training day was followed by an exclusive and highly informative tour of the HellermannTyton factory.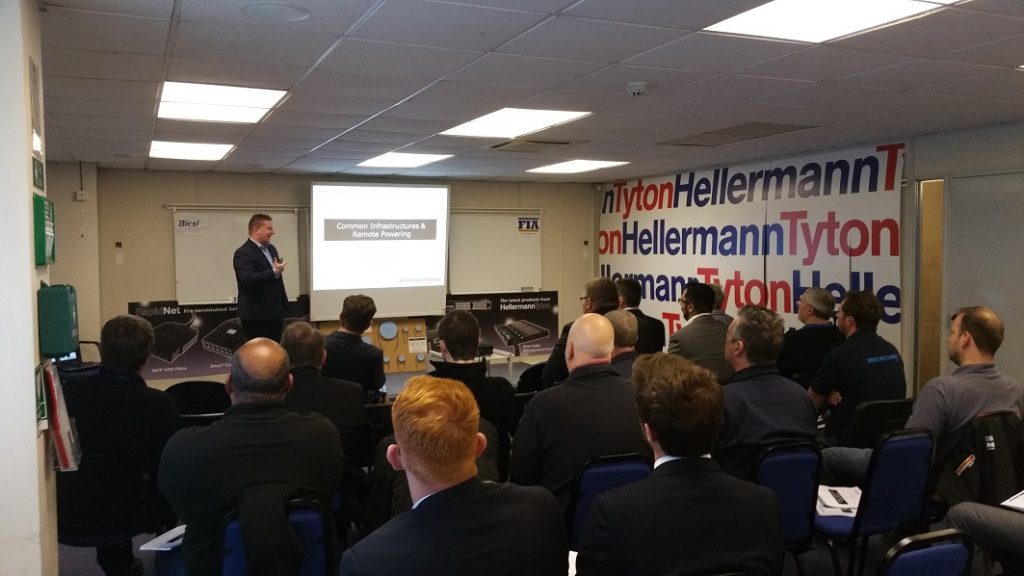 Other contracts over the summer have seen an NEC business telecom installation at Cambridge Museum and working on fire stations on base for the USAF and schools across Norfolk for cat 5 installations and decommissioning office premises in Cambridge.
The football season kicked off again in August (hoorah!) which saw revolutionary new digital advertising boards installed at Norwich City FC including the World's first rotating big screen. So, work starts again on maintaining and testing the boards during matches throughout the coming season to ensure optimum performance.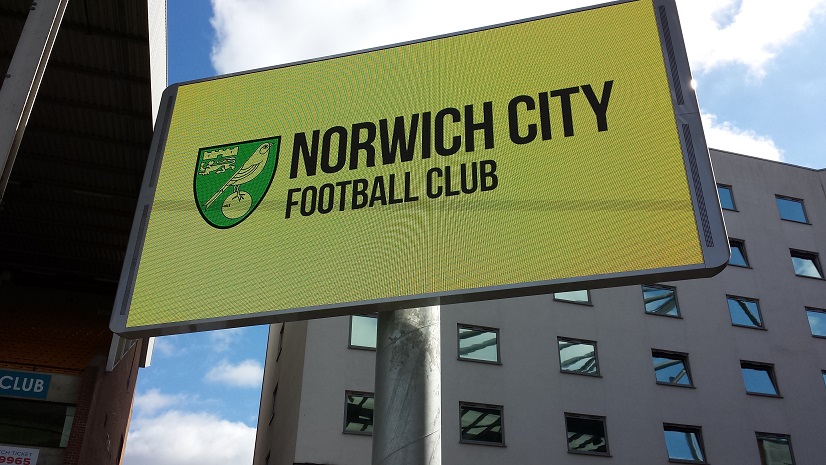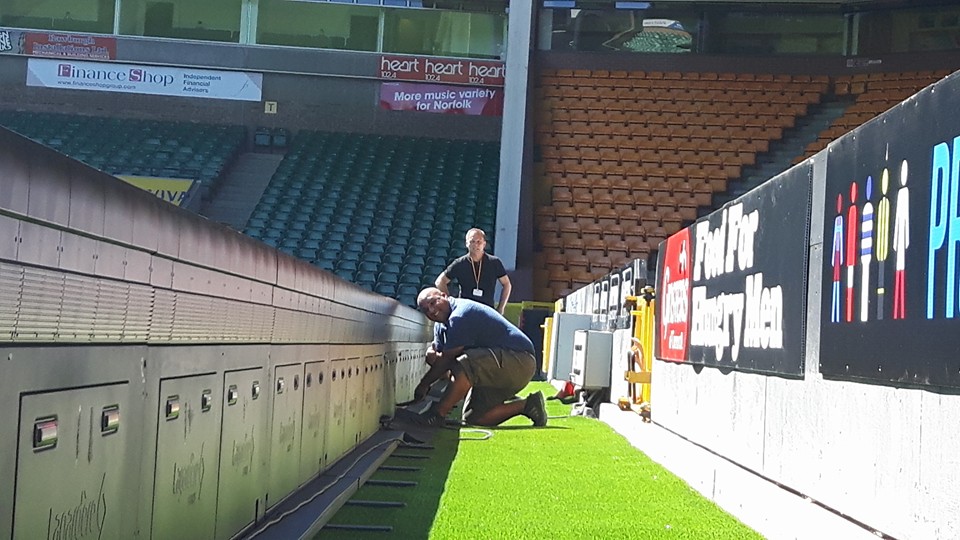 In other news, we are now a Limited Company (with many thanks to excellent accountants Red Shoes Accounting who made the whole process plain-sailing) and we also aquired Safe Contractor accreditation.
If you have any data cabling requirements, copper or fibre, (direct or sub-contract) or business or residential telecom needs, then please get in touch.