August 9, 2017 | Posted in Community | By Keith Evans
Comments Off on Millrose Telecom sponsors local Grassroots football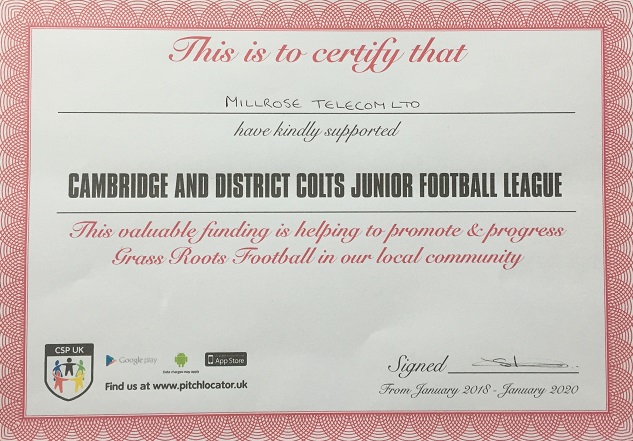 From our work at Norwich City Football Club maintaining the digital advertising boards and Epoch screen at Home matches to volunteering for Littleport and Ely Timebank, football and community are two things that Millrose Telecom spends a lot of hours on.
Bringing our love of football to a more local level, and to celebrate the start of the new football season, Millrose Telecom are now proud sponsors of the Cambridge and District Colts Junior Football League to support grassroots football in the community.
April 2, 2017 | Posted in Community | By Keith Evans
Comments Off on Please support the Time To End Loneliness campaign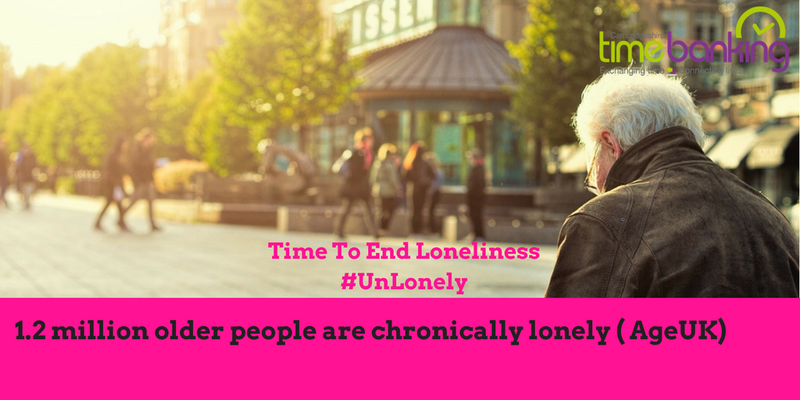 Millrose Telecom is this year proud to support the Time to End Loneliness | Cambridgeshire Timebanking Crowdfunder 2017
This campaign is raising funds to help Cambridgeshire Timebanks continue to fight loneliness. Loneliness can affect anyone at any stage of their life whether you are a new mum, a pensioner who has outlived their friends, or moved to a new area.
March 7, 2017 | Posted in Community, Company News | By Keith Evans
Comments Off on Millrose Telecom proud to sponsor Sportsman's Dinner 2017
Millrose Telecom is proud to sponsor this year's Sportsman's Dinner 2017 raising funds for East Anglia Children's Hospices (EACH). Last year's event was a resounding success and raised over £7000 for charity. Guest speakers this year include footballers Terry Butcher and John Hartson.
The event is quickly selling out, so move quickly if you want to attend. It should be an amazing and entertaining evening!
February 12, 2016 | Posted in Community, Company News | By Keith Evans
Comments Off on Millrose Telecom helps students with career choices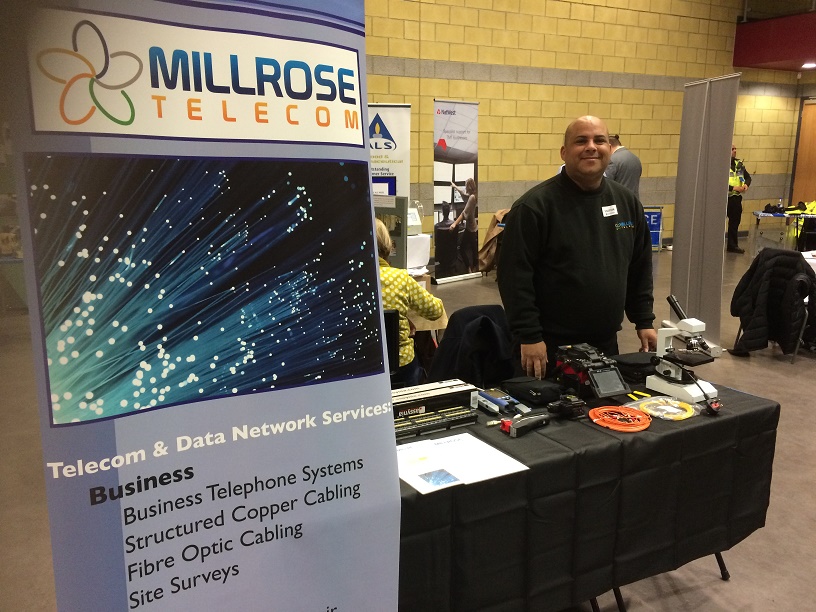 Millrose Telecom was delighted to take part in the Ely Schools Partnership Careers Event 2016 on February 11th to help Year 5 and 9 students gain an insight into the diverse range of professions, routes into employment, job roles and career opportunities after they leave school. Pupils from schools across East Cambridgeshire attended the hugely successful event.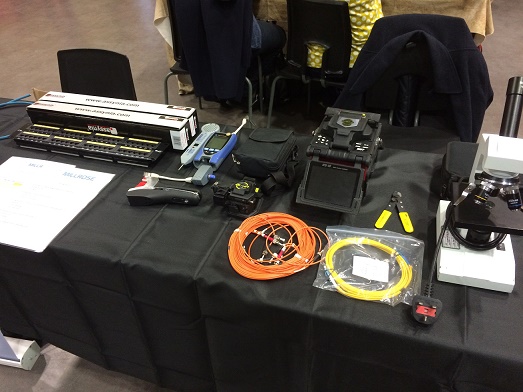 To help demonstrate the careers options available within the Telecoms field, Millrose Telecom demontrated how fibre optics work using a light and microscope demonstration, engaged students with an interactive quiz about fibre optics and fact sheets as well as a demonstration on fibre splicing and a presentation on a telecoms engineering as a career.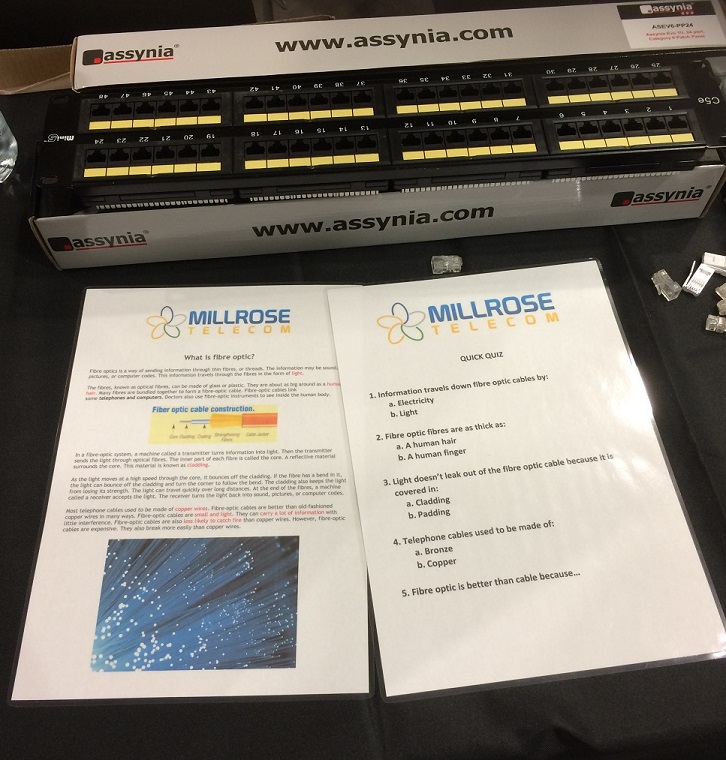 The students were very enthusiastic and asked many questions about becoming a Telecoms Engineer and were very keen to know about the STEM subject (Science, Technology, Engineering and Maths) qualifications required for the role. We also talked about the importance of personal skills such as self motivation, communication and time management. It's not just about fixing cables!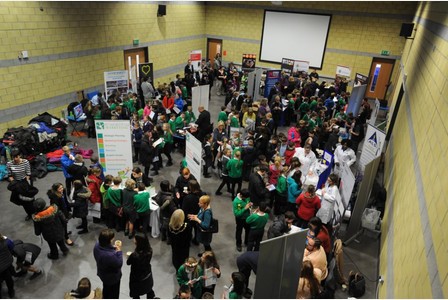 Image courtesy of Ely News
The aim of the event was for pupils to find out about different jobs whilst taking part in engaging exercises to gain a serious understanding of the world of work. Judging by the feedback we received, it appeared to have achieved those goals and the level of enthusiasm from students and businesses alike was very encouraging to make for an informative and hopefully inspiring day.
January 27, 2016 | Posted in Community | By Keith Evans
Comments Off on Ely businesses: Take part in the Ely Schools Partnership Careers Event
A request to local businesses from Ely Schools Partnership
(Millrose Telecom will be there demonstrating fibre optics to students)
Careers Event:
Date: Thursday 11th February 2016
Time: 9.00am-2.30pm
Venue:  Ely College
On Thursday 11th February, Ely Schools Partnership will be holding their 2016 Careers Event at Ely College. The idea for the careers event is to provide career information early to young people and introduce them to the vast scope of careers available, from a wide range of sectors.  The event is for year 5 pupils from local primary schools and year 9 students at Ely College.
We are looking for local businesses to volunteer their time to have stands at the event, to showcase their field of expertise.
We encourage the children to explore as many of the stands as possible, the more interactive the better and to talk to you about your business to help them discover the world of work.
If you are interested in taking part in the event, please email jtownsend@elystmarys.cambs.sch.uk for further information.
Thank you