April 2, 2017 | Posted in: Community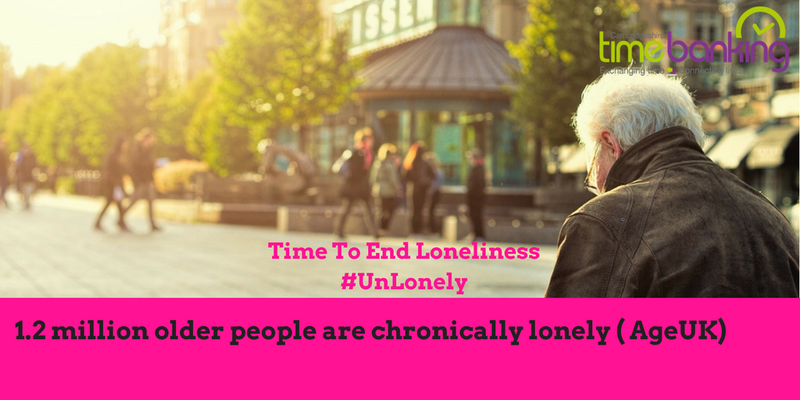 Millrose Telecom is this year proud to support the Time to End Loneliness | Cambridgeshire Timebanking Crowdfunder 2017
This campaign is raising funds to help Cambridgeshire Timebanks continue to fight loneliness. Loneliness can affect anyone at any stage of their life whether you are a new mum, a pensioner who has outlived their friends, or moved to a new area.
THE SAD FACTS
Over 29,000 people over 65 live alone in Cambridgeshire but it's not only the elderly who are affected by this silent disease, as Timebanks know full well.
Studies suggest that Britain is the loneliness capital of Europe – we are less likely to know our neighbours or have strong friendships than people anywhere else in Europe.
Dementia, high blood pressure, alcoholism, depression, paranoia, anxiety and suicide, become more prevalent when we lack social connections. Loneliness is as harmful to our health as smoking 15 cigarettes a day.
WHO ARE CAMBRIDGESHIRE TIMEBANKS?
Cambridgeshire Timebanking is a partnership involving Cambourne, Littleport and Ely, Houghton and Wyton, Somersham, St Ives and Warboys Timebanks.
The Partnership now has over 500 members, from 6 to 96 years old, who have given more than 18,000 hours to help each other and their communities.
Timebanking is a way for local people to come together and help each other by exchanging knowledge, help and skills.
In a Timebank everyone's time is equal – one hour equals one hour. A Timebank member can choose to spend an hour of their time helping an elderly neighbour to the local shops and in return they can spend that hour on any services which other Timebank members are offering, whether it be gardening, IT support or companionship.
The exchanges can go on and on, as do the new friendships, connections and networks that are made. Members feel less isolated and more supported in their own community.
WHY DO CAMBRIDGESHIRE TIMEBANKS NEED THE MONEY?
Loneliness is a quiet devastation.
It is a key issue which impacts people's health and wellbeing. We want to reach more people in their communities in need of companionship and social interaction like Julia:
'Julia moved to the area to be near her husband who is in a residential home. When she first moved she felt very lonely as she did not know anyone in the village. However, since joining the Timebank she has met many people and has developed a network of friends and support'.
Your funding will have a positive impact on the lives of many other Cambridgeshire residents like Julia by helping the Timebanks run the following activities:
Cook and Share sessions
We all know food brings people together. These sessions allow members to share their cooking skills. From Swedish to Indian to Portuguese, it's a culinary feast! Everyone get to sits down to enjoy the meal at the end.
Coffee Mornings
Coffee mornings provide the opportunity for Timebank members to come together and support each other. Guest speakers are often invited to share information on subjects from health to opportunities in the community.
Community Walks
Community walks are a great way to get members up and active in their community. Walks can be led by members and are paced for all abilities, from health walks to buggy walks, everyone can get involved.
Skill Sharing
Everyone has something to offer! We want to give members the chance to share their skills. Crafting sessions, computer skills and gardening are just some of the opportunities to come together and enjoy learning something new.
Events and Festivals
Timebanks support members to put on their own events in their community, from science fairs, litterpicks and community quiz nights they bring the whole community together.
We know that everyone has something to offer – skills and wisdom to pass on to their community, whatever their age. An hour at a coffee morning, a weekly walk with a fellow Timebank member or helping with DIY can help break the silence of a day.
If you believe in the value of strong, connected, communities; please join us by donating and help us to make a real difference locally.